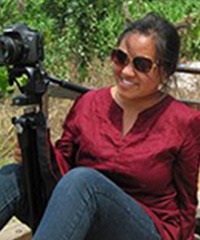 Dee Thao
Videographer
LinkedIn
dee@aesimpact.org
Dee graduated Cal State University Chico with a BA in Media Arts and Asian Studies in 2013. During her time at Chico she worked for 3 years as a Communication Design Associate in the Chico State Communications Department.
As a student at Chico State she produced an autobiographical documentary retracing her heritage in Thailand and Laos called "Searching for Answers". This film caught the attention of AES's CC Carter who then invited her to begin working with AES. Her passion for visual storytelling won her favor with AES, and she has since produced AES's #Barriers2U student awareness campaign, and directed and edited the AES compelling documentary Leading with Heart, about two visionary leaders turning around underperforming schools.
She is currently a videographer and graphic designer for the fisheries research and monitoring company FISHBIO.