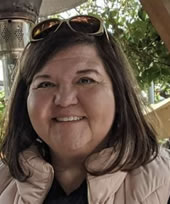 Julieta Alvarado
Board Member
LinkedIn
Julieta@aesimpact.org
Julieta Alvarado is a Digital Marketing professional who most recently was the Marketing Director for Military.com, a division of Monster, Worldwide.
Julieta has a Masters in Business Administration from the University of South Florida, a Graduate Studies Certificate in Management from the University of Paris, Dauphine, and a Bachelors in French from Western Michigan University.
She's passionate about education, supporting underserved communities and being part of an organization such as AES where she can help mentor the younger generation through education.
A native of Venezuela, Julieta has lived in the SIlicon Valley for the past 25 years.