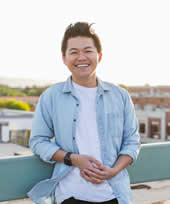 Vu Nguyen
AES BOD Secretary and Chair of Business Committee
LinkedIn
Vu@aesimpact.org
In 2017, Vu graduated from California State University, Chico earning a degree in Communication Design with emphases in Media Arts and Mass Communications, minoring in Instructional Design and Technology. During his time in Chico, he worked in roles for University Housing and the first-year student leadership institute. In his final 2 years, Vu was elected to serve as Associated Students Executive Vice President working on a variety of issues affecting students such as basic needs and food insecurity, undocumented students, and advocacy on the campus, local, and state level.
Vu currently leads Customer Relationship Management at Blue Bottle Coffee and consults on digital strategy for online businesses. As a first-generation college student from an immigrant family, Vu is excited to leverage his experience in marketing and outreach to help share AES's story and connect the organization to more people in meaningful moments that matter.
In his spare time, Vu enjoys spending time with family, travel, getting outdoors, and tending to his collection of plants.