ADVOCACY
Advocating for positive school climate and culture and restorative justice.

Sharing best practices with policy makers.

Creating opportunities for youth and practitioners to talk to policy makers.

Supporting the creation of youth centered policies.
Connecting youth, practitioners and policy makers
AES believes that effective education policy making and policy implementation are made more difficult by the relative lack of sustained interface between policymakers and those responsible for carrying those policies out.
Key to this is bridging the gap between policymakers and the on-the-ground experiences of those doing the work in the field – principals and teachers who have helped turn around underperforming schools.
In order to build momentum to impact policy-making and effect systemic change, AES works with a legislative advocate to actively lobby on state policy education and budget issues in support of underperforming schools, and to create opportunities to bring together successful educational leaders and policymakers in environments designed to build trust and cross-sector collaboration.
Advocacy efforts focus on:
The challenges and core issues (both educational and relational) faced by underperforming high poverty schools and the students they serve;
The inadequacy of existing funding and programming efforts to address these core issues;
The integrated solutions available to address these core issues cultivated from over 20 years of research that identify improving interactions among key stakeholders in schools as the basic building block needed for all other systemic improvement efforts.
The need to engage all key stakeholders in identifying the solutions for their schools and communities. (This includes encouraging policy makers to authentically engage students in the process.)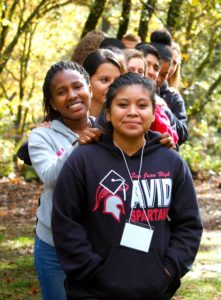 Armed with proven research results, AES hopes key legislators will be encouraged to work with practitioners to develop policy and legislation that incorporates these findings to turnaround underperforming schools.
Black Minds Matter Briefing at the CA State Capitol
As part of AES's advocacy efforts youth were invited to to testify at the Black Minds Matter legislative information briefing at the State Capitol on Wednesday, February 10.
This was a landmark opportunity for policymakers to hear directly from black and brown young people what challenges they faced, and what opportunities they found, in California public high schools.
The briefing examined the recently published Black Minds Matter: Supporting the Educational Success of Black Children in California by Education Trust-West, which highlights promising practices to consider in addressing disparities and inequities in access, opportunity, and achievement for black and brown students. Many of the recommendations focus on improving school climate and culture, an issue AES has been advocating for over the last several years.
The youth who testified at the briefing shared their stories, and provided some recommendations to improve schools for students of color. Their stories reflect recently released policy recommendations of the National Youth Council – founders of Opportunity Youth United – a national movement of young people which AES convenes in the Sacramento area.
For more about the info briefing read the full press release: https://aesimpact.org/black-minds-matter-press-release-feb-2016/