Sacramento Youth Alliance Community Action Team
EMPOWERING AND TRAINING YOUTH IN THE SACRAMENTO AREA TO BE ADVOCATES, LEADERS AND CHANGE MAKERS.
YOUNG ADULTS WORKING TO ELIMINATE THE BARRIERS OF POVERTY, DISCRIMINATION AND INJUSTICE FOR UNDER-REPRESENTED COMMUNITIES.
SUPPORTING YOUTH TO REACH THEIR MAXIMUM POTENTIAL.
The Sacramento Youth Alliance Community Action Team is a coalition of diverse young people ages 16-24, in the Sacramento area, who train, mobilize and organize their peers to work together to increase opportunity and decrease poverty for youth in the Sacramento area.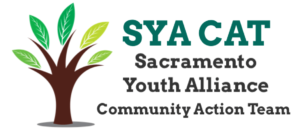 Interested in Being a Member or In Supporting Our Work ? Individuals and Organizations are Invited to Join.
SYA CAT Vision
All Sacramento youth will have the same opportunities to be educated and thrive, and will be provided opportunities to be engaged, productive and successful members of their communities.
Our Vision for Sacramento
Sacramento will be a city that has eliminated the barriers to success for all young people by investing in programs and policies that give youth a pathway out of poverty and pipeline through college.
"I joined SYA CAT to help eliminate the barriers young people face because of the color of their skin. To erase stereotypes and erase all limits set by others. To make my voice heard on issues only we youth face," Oscar Cervantes, College Freshman.
Our Mission: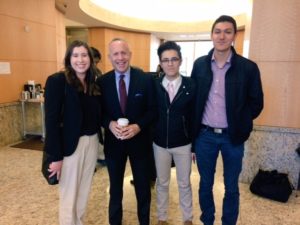 To eliminate the barriers of poverty, discrimination and injustice for vulnerable, low-income and minority youth.
To impact systemic change and increase opportunity in the Sacramento area to improve the lives of low-income young people and the communities they live in.
To mobilize and train a coalition of youth advocates who champion policies and practices that are youth centered and youth supported.
To empower youth in the Sacramento area so that they have the skills and opportunities to advocate for themselves and reach their maximum potential.
SYA CAT: Who we are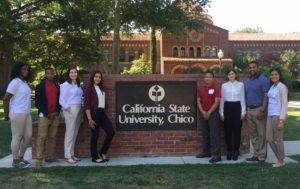 The Sacramento Youth Alliance Community Action Team (SYA CAT) is a local chapter of the national Opportunity Youth United (OYU) movement which organizes groups of young leaders through Community Action Teams (CAT) to speak up and take action to end discrimination, poverty and injustice, and to build a society that respects and protects the rights of all young people.
The SYA CAT is a committed group of young adults who refuse to accept what they're given, and refuse to let others shape their realities. Instead they choose to create the communitt they want by engaging on issues that matter to them, and advocating on behalf of all youth in Sacramento.
AES serves as the OYU anchor organization for Sacramento and in doing supports the SYA CAT to advocate for the issues most important to Sacramento youth. Led by AES and Lynch Associates the SYA CAT:
What we do: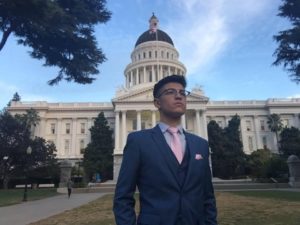 Train youth ages 16-24 as civic leaders and social change agents to mobilize their peers and advocate for the issues that matter most to them.
Help build social connections between youth, policy makers and community leaders.
Provide a space for youth to become central to system improving processes by providing opportunities for them to advocate for and impact the change they seek.
Serve as a coordinating hub for youth led community based and site based action teams where authentic youth engagement is supported, and systemic changes cultivated through policy and community development advocacy and educational outreach.
Helps young people organize to create systemic changes to the social systems that impact their lives. The focus of the work begins with with Opportunity Youth United's Recommendations to Increase Opportunity and Decease Poverty in America.
"I joined the SYA CAT to make sure ALL young people in Sacramento will have more opportunities in thier future," Jacie McCalister, High School Junior.