Sacramento Youth Alliance Community Action Team
EMPOWERING AND TRAINING YOUTH IN THE SACRAMENTO AREA TO BE ADVOCATES, LEADERS AND CHANGE MAKERS
YOUNG ADULTS WORKING TO ELIMINATE THE BARRIERS OF POVERTY, DISCRIMINATION AND INJUSTICE FOR UNDER-REPRESENTED COMMUNITIES
SUPPORTING YOUTH TO REACH THEIR MAXIMUM POTENTIAL
Join the Movement: Be the Voice of Change in your School or Community.
Be Part of a Youth Led Network. Be a Leader and a Change Maker
The Sacramento Youth Alliance Community Action Team is a coalition of diverse young people ages 16-24, in the Sacramento area, who train, mobilize and organize their peers to work together to increase opportunity and decrease poverty for youth in the Sacramento area.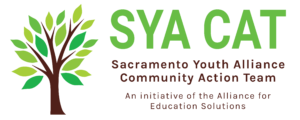 Interested in Being a Member or In Supporting Our Work ? Individuals and Organizations are Invited to Join.
The Sacramento Youth Alliance Community Action Team (SYA CAT) is a local chapter of the national Opportunity Youth United (OYU) movement which organizes groups of young leaders through Community Action Teams (CAT) to speak up and take action to end discrimination, poverty and injustice, and to build a society that respects and protects the rights of all young people. Learn More
Train youth ages 16-24 as civic leaders and social change agents to mobilize their peers and advocate for the issues that matter most to them.
Help build social connections between youth, policy makers and community leaders.
Provide a space for youth to become central to system improving processes by providing opportunities for them to advocate for and impact the change they seek.
Serve as a coordinating hub for youth led community based and site based action teams where authentic youth engagement is supported, and systemic changes cultivated through policy and community development advocacy and educational outreach.
Helps young people organize to create systemic changes to the social systems that impact their lives. The focus of the work begins with Opportunity Youth United's Recommendations to Increase Opportunity and Decease Poverty in America.
Want to be the voice of change in your school or community? Interested in being part of a youth led network to make your city a better place? Looking to be a youth leader or change maker? Find out how HERE
The Youth Town Hall is one in a series of opportunities for Sacramento Youth to stand up and speak out on issues that are important to them. This is an opportunity for youth to exercise their civic responsibility and voice their preference for certain policies, ideas, and issues. AES and SYA facilitated and helped organize the Town Halls. LEARN MORE
The SYA CAT is one of many community action teams in cities across the country. Each action team is part of the National Opportunity Youth United Movement, to mobilize and engage 1,000,000 disconnected youth in 10 years. LEARN MORE