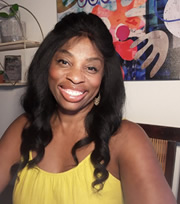 Jennifer Halford
Customer Relations
LinkedIn
tisa@aesimpact.org
Tisa Johnson is an outgoing customer relations professional/trainer/communicator with over three decades of experience in both the public (California Legislative Counsel Bureau, Franchise Tax Board) and private sectors (USAA). Her extensive training and experience has equipped her to analyze complex data and figure out the best possible/most fair solution in most any situation… both professionally and personally. She is hired for her outstanding interpersonal skills and ability to communicate effectively. Moreover, she is recognized as a consummate professional with a can-do attitude who excels at connecting dots and connecting with people.
Tisa possesses integrity, steadfast enthusiasm, tenacity, and is committed to serving her family and community. She has a passion for youth and organizes youth communications workshops which focus on the effects of social media on teen's mental health and relationships, public speaking and improving writing skills. She also hosts interactive parenting wellness/enrichment workshops that aim at providing practical information to help navigate the challenges of raising children in this ever changing 21st century parenting environment.
Tisa is a proud and active mom who loves helping people see their value, develop their inner strength and appreciate their resilience. She also enjoys volunteering her support as a team mom for her daughter's athletic teams, spending time with family/friends, photography and participating in a wide array of outdoor activities such as hiking, camping, biking, music festivals and amusement parks.